For those of you that know me, you know that I don't like to have anyone touch my face or hair. Well, the other night some friends and I from Emory Hospital in Atlanta were handing out blankets, toboggans, gloves, etc., to the homeless. I was wrapped up with a heavy jacket and a scarf, but was completely frozen. I was careful to not say anything about being cold simply because I would be getting in my warm car shortly and the people that we were helping would soon be lying on the cold ground to sleep. Extremely sad!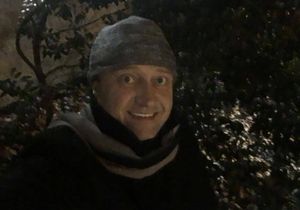 Evidently, to those around me, it was apparent that I was freezing. A guy that had just gone through the line for help, came back through but for a different reason this time. He walked up to me and said, "Sir, can I put this toboggan on you? I can tell you are freezing and you should always take care of yourself before helping others." I said, "No sir, but thank you very much. I will be fine, besides, we came to help you guys stay warm." He responded with, "Please allow me to help you. I can tell that you have a heart that's different than most people that I've seen and this world needs you. I don't want you to get sick being out here." To keep from appearing rude or disrespectful, I lowered my head and allowed him to place the toboggan over my head. Once he was finished, he put his hand on my shoulder and said, "It is easy to see that GOD has a special plan for you, and I am honored to meet you." He reached to hug me, and I responded with eyes full of tears and a hug in return. 
As we were leaving, one of my new friends (Jesse) whose wife works at the hospital said, "Johnathan, I couldn't help but cry as I watched you allow that guy to help you. The way you both did made me think about what is important in life. I really appreciate getting to work with you down here." 
I found out a little later that my new friend (Jesse) isn't a Christian, or should I say he 'wasn't' a Christian! This past Sunday he went to church with his wife and gave his life to JESUS! Amazing! Totally amazing! 
THANK YOU GOD for making, your love for us visible! I am so thankful that our steps are ordered of you, for a greater purpose! 
Friends, take time to notice your surroundings, GOD has a plan and it involves you. Have a great Testimony Tuesday! 
Johnathan Bond 
Young Harmony 
#JohnathanBond #TestimonyTuesday 
#PlusOne #ExtendedArms